CRYPTO STARTS HERE
One App, To Access all the best Crypto Services from the palm of your hand.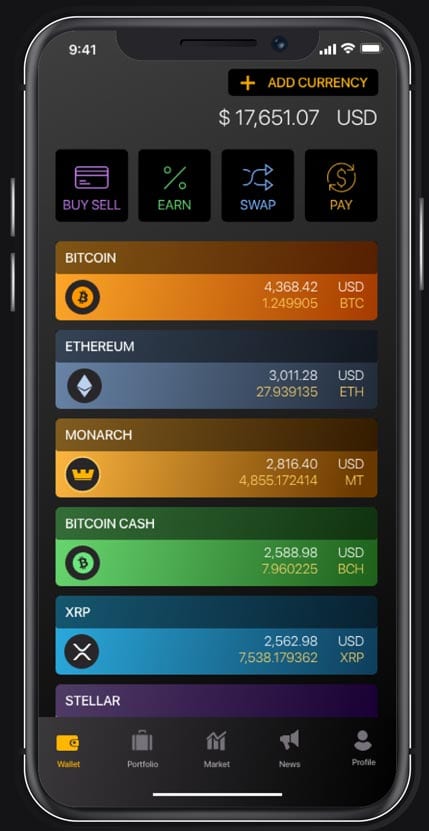 Monarch combines all your favorite blockchain services in one place, the Monarch Wallet.
Monarch Powers DeFi.
WORLD'S FIRST DECENTRALIZED
Recurring Crypto Payments
Accept Cryptocurrency Payments on a Recurring/Subscription Basis
We Believe In Delivering Tech Not Hype
Download Our App Today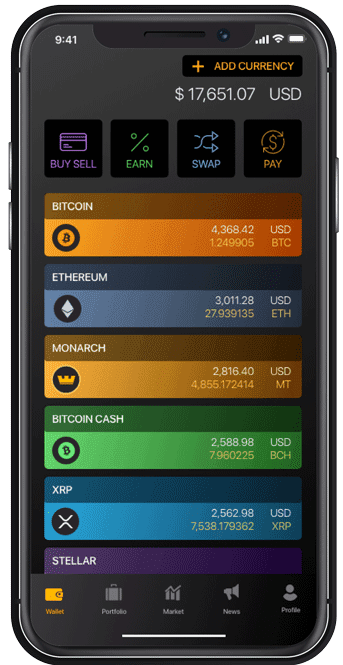 The Monarch Wallet is a universal decentralized cryptocurrency wallet that allows you to:
Buy/Sell Bitcoin, Ethereum For Fiat*

Buy BCH with CC*

Store/Send/Receive:

Bitcoin

Ethereum

BCH*

XRP*

Stellar*

GoChain*

TUSD*

LTC*

NEO* & Gas*

All ERC20 Tokens


All SLP Tokens
MonarchPay: Decentralized Recurring/Custom Crypto Payments
Accept Recurring Payments in ETH, DAI, TUSD or USDC!
One KYC For All Services

Take out a Loan with Your Crypto (In Development – Launching Soon)

Trade most ERC-20 to ERC-20 Tokens Via Our ERC 20 DEX*

Track your Gains and Losses*

Review Market Data for Most Cryptocurrencies*

Keep Up-To-Date on Blockchain and Cryptocurrency News

Maintain Control Over Your Private Seed + Keys

Sync With Our Compatible Desktop Apps

Qualified Users Can Now Earn Interest With Crypto
Rule your own financial kingdom from the palm of your hand!
*Windows and Mac OS X Features coming soon
Separate App for every cryptocurrency, wallet, service & blockchain.
On average, crypto users need 9 apps. Imagine if you needed an app for every stock you own.
 No simple-safe decentralized crypto solutions on the market.
Exchange and Sim Card exploits leave your funds at risk.
"Not Your Keys, Not Your Bitcoin" – Andreas Antonopoulos
Each service requires separate KYC, login, and app.
Endless KYC processes on non-vetted companies puts your identity at risk.
ONE APP TO ACCESS THEM ALL
Monarch combines all your favorite blockchain services in one place, the Monarch Wallet.
One KYC for All* Blockchain or Crypto Services.
Access to ALL* Cryptocurrencies.
*Monarch Supported Services, Cryptocurrencies & Blockchains.
IN 2010:
UBER owned NO cars
AIRBNB owned NO hotels
NETFLIX created NO shows/movies
AMAZON created NO merchandise
FACEBOOK created NO content
THE MODERN
ECONOMIC MODEL
PROVIDES VALUE BY
LEVERAGING
3RD PARTY SERVICES.
THE MODERN
ECONOMIC MODEL
PROVIDES VALUE BY
LEVERAGING
3RD PARTY SERVICES.
INTRODUCING THE MONARCH MOTOR
WITH OVER 315,000 USERS, Monarch has partnered and will continue to partner with the TOP BLOCKCHAIN PROJECTS to provide users with the best services in ONE SIMPLE APP.
We stopped reinventing the wheel, we don't need to create every service ourselves. We embrace all projects that have value. Partners can plug into the Monarch Motor and be powered by our Wallet and Users.
INTRODUCING THE MONARCH BLOCKCHAIN ALLIANCE
USERS
Decentralized Crypto Storage
One Login and KYC process
Access to the best in crypto services
One App To Access them all
MERCHANTS
Fiat to Crypto
Crypto to Fiat
New Revenue and Users
PARTNERS
Monarch Motor plugin
Access to Monarch Users
Partner Development Services
Revenue Share
Exposure
* (MTS) Security Tokens For Qualified & Approved Accredited Investors Only
Weekly Dividends
15% of Monarch Gross Revenue Is Distributed Weekly To Monarch Security Token holders
Utility Token Airdrop
Monarch Security Token holders will be given an equal number of Monarch Utility Tokens post TGE
STO/ICO Launch Platform
Monarch Will Be Launching Their Own STO/ICO Launch Platform (Pending FINRA & SEC Approval)
To bring the Worlds best crypto services and companies to one safe, easy to use place, The Monarch Wallet.
Sneh Bhatt
CEO
CEO of CryptoSomniac. Crypto Digital Marketing and Media agency mogul. Assisted 70+ crypto projects. Drexel University BS in Engineering. Systems Engineer for Johnson & Johnson and several other Fortune 500 companies. Programmer.
Robert Beadles
PRESIDENT
CEO of Splash Factory blockChain development. Created numerous multi-million dollar businesses. Crypto Influencer known as CryptoBeadles. Investor. Philanthropist. All his success comes from God, team and hard work.
WilliAM Lince
CMO
As CMO, Will oversees successful campaigns that improve conversion and adoption through his years of experience in digital marketing, team building, networking, offline marketing, branding, advertising, web design, leadership, coaching, public speaking, photography, videography, and audio production.
Robert Cornish
LEGAL, REGULATORY COMPLIANCE
One of the Leading USA attorney's in the global digital assets industry with compliance, deal formation and corporate governance. Regularly represent securities and commodities industry participants in litigation, regulatory and corporate governance matters with an emphasis on those involved in the EB-5 investment immigration program.
Splash Factory
BLOCKCHAIN DEVELOPMENT
Splash Factory is a full-service digital DevOps agency that specializes in creating innovative and impactful blockchain solutions for ICOs, Token Sales, government, and enterprise level integrations.
Nate Aguila
VP | CREATIVE DIRECTOR
Nate oversees the logistics of project fulfillment and integrates strategic planning into the design and development workflows. He directs business planning, marketing campaigns, and agile project teams. He has extensive skills in branding, graphic design, illustration, UX/UI (web + mobile applications), product development, prototyping, and video production.
Jesus Moreno
BLOCKCHAIN DEVELOPMENT LEAD
Jesus manages development teams that are tasked with Solidity-based coding, DApps, smart contracts, or creating new blockchain or side-chain solutions. He specializes in creating adaptive user interfaces that integrate with existing or custom blockchains. Language application expertise includes Solidity, C++, Java, Swift, and Objective-C.
Mark Corpuz
MOBILE APPLICATIONS LEAD
Mark's teams handle the development of mobile applications that seamlessly integrate with decentralized data and the user's hardware. He has expertise in Solidity, C++, and iOS development. Technologies include geolocation, media streaming, image recognition, beacon deployment, tracking, augmented reality, and sensor feedback technology.
Troy Silva
WEB 3.0 SYSTEMS LEAD
Troy manages website and software development teams that are tasked with blockchain or side-chain setup, configurations, database management, node deployment, and API production. He specializes in dynamic web and software solutions that utilize Solidity, C++, HTML5, CSS3, Javascript, PHP, and Database management development.
Aaron Beadles
MEDIA SPECIALIST | GROWTH HACK MANAGER
Aaron oversees the teams focused on our clients' social media growth activities. He is adept at rapid conversion and adoption through non-standard marketing tactics that get results. Through analysis and adaptive market testing, he improves reputation scoring, user engagement, and loyalty.
Tom Presler
CAMPAIGN MANAGER
Tom manages teams responsible for initiating bounty programs, promotional events, and maintaining chat/forum communications. He is a talented and experienced coordinator that applies his marketing skills to all aspects of an ICO or Token Sale, both pre and post launch.
Roger Ver
CEO of Bitcoin.com
Founding member and board advisor for Bitcoin Foundation. Prominent Bitcoin evangelist and angel investor.
Josh Phair
Scottsdale Silver
President-Scottsdale Mint. Principal HPR Ammunition. VP Willis Towers Watson. Florida State University-B.S Risk Management.
Gee Hwan Chuang
Ink Protocol / Listia
Co-Founder & CEO of Listia Inc. Co-Founder & CEO of Ink Protocol (XNK). Founder of GEE! TECHNOLOGIES. Co-Founder of MODsearch LLC. Senior Software Engineer ZYXEL. Cornell University Masters, B.S Computer Engineering.
David Zimbeck
BitHalo / BitBay
Original creator of Smart Contracts. World's first real estate transaction on BlockChain. Created one of the most advanced crypto platforms in existence. Master blockchain and software programmer. Lead Developer: BitBay, BitHalo.
Damon Nam
Coinvest
Founder and Executive Director of Coinvest. 16 years at Microsoft. where he was a US Services Partner Program Director. Studied Information Technology and has a Bachelor of Science in Business at Southern Methodist University.
Nimrod May
Sirin Labs
CMO Sirin Labs. CMO WOO. CEO RDSeed. VP Marketing of Gett. Head Marketeer Of Disney. Mentor-Microsoft Ventures. Mentor-TechCareer Israel.
Dmitri Nazarov
Genesis Vision
Founder-CEO Genesis Vision (GVT). Smart Contract Auditor. Master Software Developer: IAEA, DataArt, Saint Petersburg Stock Exchange, Motorola, Reksoft.
Enzo Villani
Transform Group
Managing Director for Transform Group. Board member for Velocity Ledger. Owner of VA Capital Partners. Advisor and consultant for numerous projects.
Download the Whitepaper Here:
Download the Pitch Deck Here:
Need help with something or have a question?