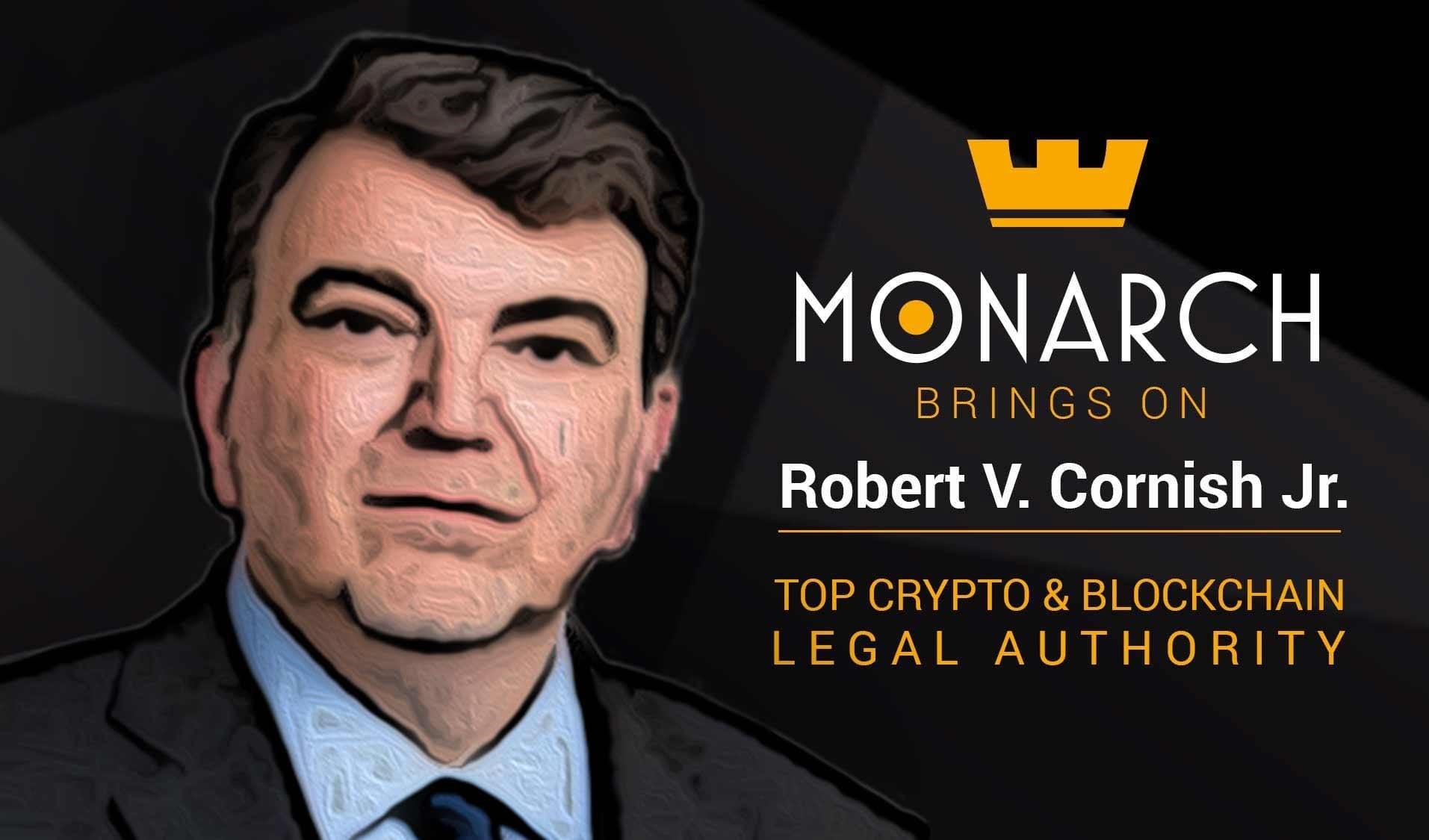 Leading Crypto Advocate and Wyoming Blockchain Attorney Bob Cornish and Wilson Elser retained by Monarch Blockchain Corporation as its Counsel
Attorney Bob Cornish, an industry expert in the digital asset space and member of the Wyoming Blockchain Coalition, has been retained by Monarch Blockchain Corporation as its Counsel for legal and corporate matters.
Reno, United States – May 14, 2019 —
Monarch Blockchain Corporation welcomes crypto advocate attorney Bob Cornish as its outside counsel. Bob, who is Of Counsel at national Law firm Wilson Elser, has 25 years of experience in the financial services and broker-dealer space. He brings a wealth of knowledge of digital assets and laws surrounding them. He worked with the Wyoming Blockchain Coalition to add 13 laws to make Wyoming a welcoming state for crypto and blockchain technology and has been an ambassador to those blockchain companies seeking to establish a presence in the United States.
Monarch Blockchain Corporation has announced that Bob Cornish will be taking over as its lead outside counsel. Mr. Cornish is a good fit for Monarch because they both are helping blockchain technologies become more accessible and useful in the space. Robert is a leading attorney in the digital assets space.
Wyoming wanted to become a place to encourage growth in blockchain technology and cryptocurrency. These laws were designed to benefit businesses and individuals. Some of the legislation was designed to help the challenge of banking with cryptocurrency. Wyoming created a state-chartered depository to provide basic banking to blockchain and other businesses that are required to have 100% reserves. These banks are for business depositors only and will have optional FDIC insurance. Wyoming hopes these laws will not only bring in US-based businesses but global businesses as well.
With all of Mr. Cornish's experience in the digital assets space, he has been asked to speak at events in the blockchain and crypto industries. He was a panelist at Blockchain Unbound in Puerto Rico, Money Conference 2018 in Dublin and other events in the US, Asia and Europe.
Robert also has a significant amount of experience in litigation, arbitration, regulatory and compliance matters for broker-dealers, investment advisors, institutional investors, commodity firms, accountants, hedge funds and family offices. He is a member of the EB5 Securities Roundtable, which is an informal, independent group of EB-5 Securities Attorneys that got together to facilitate best practices. He has been recognized as one of the top 15 Corporate and Securities Attorneys in the EB-5 space by his peers in EB5 Investors Magazine 2016 and 2017, as well as a thought leader. Bob has also served as chief legal ad compliance officer for prominent investment firms.
Being a Chairperson-trained arbitrator for FINRA, NFA and the London Court of International Arbitration and a Rule 31 Mediator for the Tennessee Supreme Court will also benefit Monarch Blockchain Corporation it is focused on compliance and in the midst of its Token Generation Event concluding on June 30, 2019. More information can be found on the Monarch Website.
With thanks to Wilson Elser, Monarch Blockchain Corporation is grateful to have Bob Cornish on board and is excited to have him assist with the expansion and improvement of its products and services while ensuring regulatory compliance.
Robert Beadles, President of Monarch Blockchain Corporation, "Navigating the regulatory waters in crypto can be challenging. Adding the preeminent attorney in SEC Compliance and blockchain as Monarch's lead legal counsel shows we take our responsibility seriously. We are here to deliver amazing tech and value while doing everything in our power to be compliant. We're honored to welcome Robert to the family!"
Monarch Blockchain Corporation currently has one of the best Universal Decentralized Wallets to offer the market. Currently, The Monarch Wallet supports over 1900 cryptocurrencies and can be downloaded for free from the Monarch website, the Google Play or iOS app stores. The Monarch mobile wallet has attractive features such as having a fiat gateway that allows qualified customers to utilize their bank or credit cards to purchase Bitcoin and/or Ethereum, to earning up to 7.1% APR with various cryptocurrencies. All users can also use the ERC20 Token to ERC20 Token Decentralized Exchange (DEX) directly from within the Monarch Decentralized Cryptocurrency Wallet. Top it all off with the app being updated on a regular basis, a portfolio tracker, updated news, market data, all while users own their keys and seed. The Monarch Wallet truly is the one app to rule them all.
To stay up-to-date with all things Monarch, be sure to join their Telegram Community Channel of over 28,000 members here: https://t.me/MonarchToken