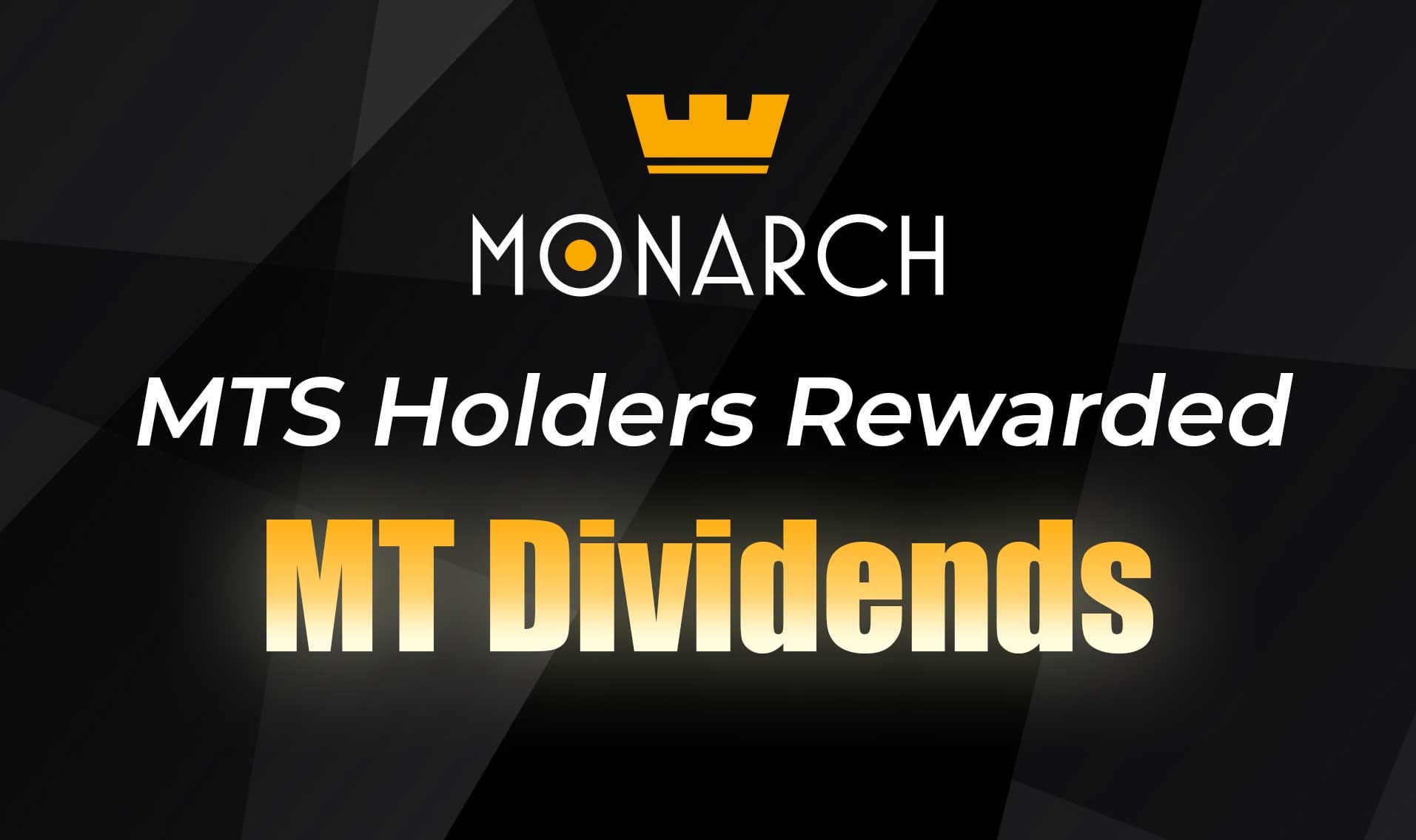 Monarch Blockchain Corporation Rewards MTS Holders with MT Dividends
Monarch, one of the most feature-packed decentralized wallets and suite of crypto services, today announced it made their first MT dividend distribution to their MTS holders. The Dividend payments are one of the "perks" of holding their MTS security token according to their whitepaper.
"Today marks another important milestone for us, as we continue meeting goals set in our roadmap, from updating MonarchPay to include USDC and also now sync with your Monarch Wallet—to where now MTS holders will receive MT dividends split between all MTS holders," said Robert Beadles, President of Monarch. "We're excited that our MTS holders are now being rewarded as they believed in us and participated in our token generation event"
Numerous Monarch Wallet updates have been made in the last several months as well. From various bug fixes, UI improvements, biometrics like FaceID enabled on the iOS app, to an improved and revamped ERC-20 DEX—increasing total decentralized exchanges users can trade between, tokens supported, better pricing, stability, and availability of tokens—the Monarch Wallet is continually being updated.
"Our community continues to expand each day, and we're excited about the updates we've made the last month, but we are even more excited for the updates coming in the next several weeks." Said Sneh Bhatt, CEO of Monarch. "We've been hard at work on integrating our recurring crypto payment platform within the Monarch Wallet and can't wait to reveal the updates we've made and breakthroughs we've achieved as an industry first!"
Monarch brings together the best blockchain services under one app with functionality across iOS, Android, Windows Desktop, and Mac OS, providing a one-stop-shop for more than 314,000 users. Some of their community members say the Monarch Wallet has a "Royal Feel" to it, and others say "it's nice to be able to manage everything with just one app." There's a reason the Monarch community continues to grow; Monarch isn't hype, they continue to show up, delivering on their promises and releasing tech.
Monarch is advised by Roger Ver, Bitcoin Foundation Founder; Eric Ly, Co-Founder of LinkedIn; David Zimbeck, lead developer at BitBay and creator of the first smart contracts; Damon Nam, Founder of CoinVest, and many of the most influential names in the blockchain industry.  Monarch has also acquired a broker-dealer license and is awaiting SEC and FINRA approval.
ABOUT MONARCH
The Monarch Wallet is available as both mobile and desktop apps, is decentralized, has a decentralized ERC-20 token exchange, a BTC/ETH fiat gateway, portfolio tracker, and universal KYC integration. The Monarch Wallet supports more than 3,003 cryptocurrencies, allows qualified users to buy cryptocurrency with a bank or credit card, earn up to 8.1% APR interest on select cryptocurrency holdings, and all users can switch between hot and cold wallets, all while maintaining their own private keys and seed. You can connect with their community and stay up to date by joining their official telegram live chat community here: https://t.me/MonarchToken