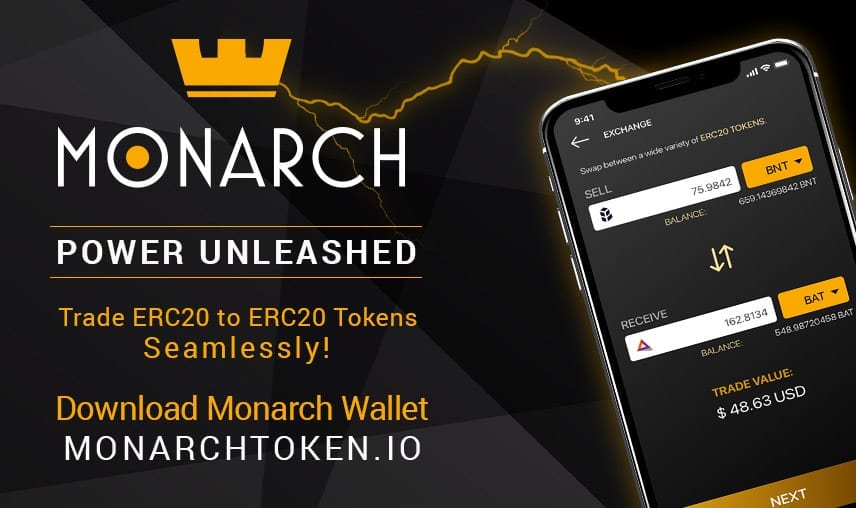 Monarch Wallet Decentralized Exchange Update: Users Can Now Trade All Totle Supported ERC-20 Tokens In-App
Monarch Blockchain Corporation is happy to announce the new Monarch Wallet integration with Totle. Customers can now submit any ERC20 to ERC20 coin trade and get the best prices, all while staying within their decentralized universal crypto wallet (The Monarch Wallet).
Before this integration, Cryptocurrency enthusiasts would typically purchase Bitcoin or Ethereum from a Fiat Gateway/exchange, sometimes transfer that same BTC and ETH to another exchange that supported the ERC-20 token they want to buy, then trade their BTC or ETH for a coin they wanted, and lastly then move that coin to their cold wallet for safe storage.

With this new Totle integration, customers can use the Monarch Wallet fiat gateway to purchase BTC & ETH from their bank account or credit card, then use the exchange feature to submit orders for crypto, and the crypto will automatically be routed to their aggregated decentralized wallets. This allows customers to stay within the wallet app and ensure they can trade while maintaining ownership of their crypto the entire time.
This integration with Totle aggregates the top decentralized market exchanges (DEX) to optimize pricing and can route multiple orders to multiple exchanges in one request. By pooling the fragmented order books among decentralized exchanges, the odds of filling a user's request increase greatly.
To take full advantage of this new update to the Monarch Wallet, download the app at https://monarchtoken.io/#download.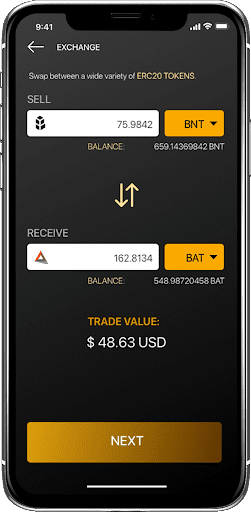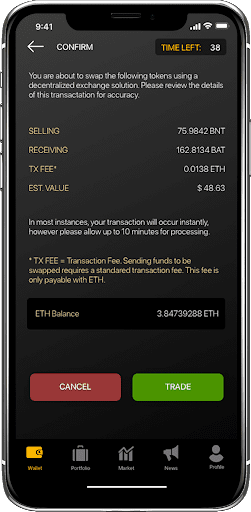 Monarch Blockchain Corporation is excited to unveil the latest benefit for current and new Totle integration customers as it's specifically designed to meet the needs of cryptocurrency enthusiasts. This is in addition to Monarch Wallet's already impressive list of features like having some of the lowest fees for buying and selling BTC & ETH with Fiat, the ability to store, send, and receive over 1900 cryptocurrencies while ensuring users own their keys and seed, and even earn up to 7.1% APR interest on select cryptocurrencies.
On this subject, Robert Beadles, President & Co-Founder at Monarch Blockchain Corporation said:
"We are building the future of Cryptocurrency apps.  Imagine having all of the best services, ownership and capabilities of the best companies out there in the crypto space, but all of it is consolidated into one easy to use app.  That's powerful for users, it's powerful for cryptocurrency adoption and it's what we're building right now."
Monarch Blockchain Corporation has made a point of listening to their customers and taking feedback as much as possible. They do this because they wish to create simple but effective tools for customers to adopt and use crypto. This dedication has made them known among customers as hard working, dedicated and a company that's continually innovating.  They just continue bringing new ideas and products to market all while flying mostly under the radar. They are truly setting a new standard in the industry. Their focus is on building the technology that will make it easier for their customers to get more benefits out of one easy to use app. This makes it easier for new crypto enthusiasts to seasoned pros to have a go to app that lets them get the most from their crypto.
To stay up-to-date with all things Monarch, be sure to join their Telegram Community Channel of over 27,000 members here:  https://t.me/MonarchToken
Monarch Blockchain Corporation is currently holding a Token Generation Event.  To learn more about how you can participate, please visit their website here:  https://monarchtoken.io/