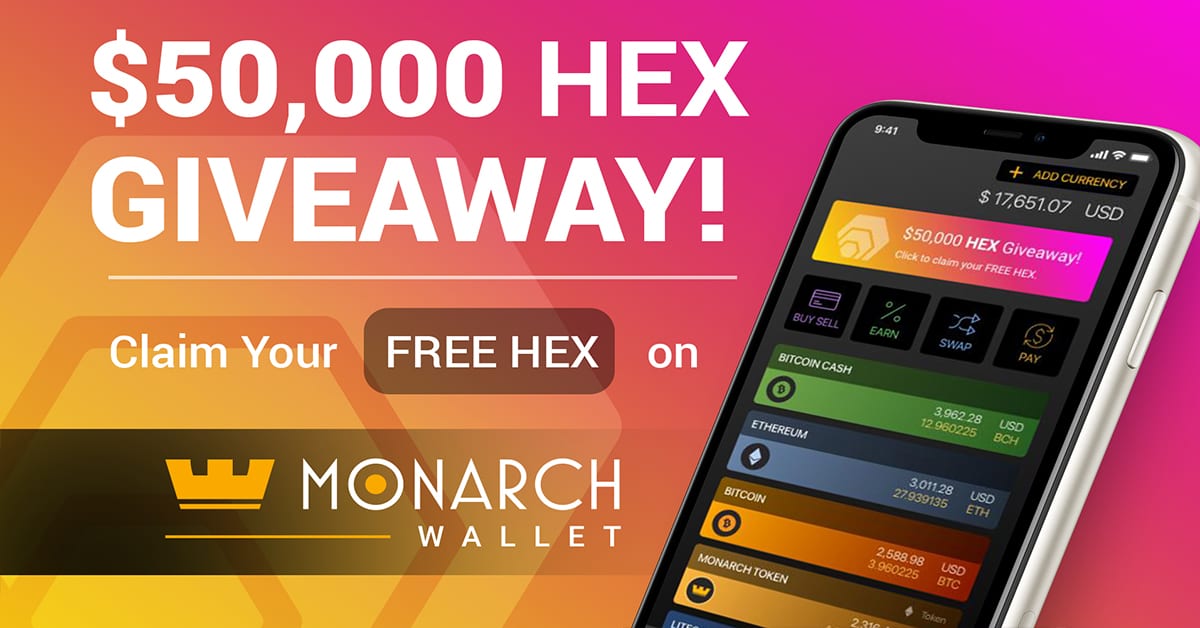 Monarch Wallet is giving away $50,000 in HEX tokens!

Monarch Wallet is holding a $50,000 giveaway of HEX tokens, which will be given to all participants at the end of the giveaway!
Reno, Nev. – July 29, 2020 – Monarch Wallet, The decentralized universal cryptocurrency wallet just announced they are giving away $50,000 in HEX tokens. Monarch Wallet brings together the best blockchain services into one easy to use mobile app for iOS and Android. With over 427,500+ wallet downloads between all platforms, users can buy, sell, send, receive, trade, store, and earn interest with cryptocurrency. The cryptocurrency wallet now supports over 3,013+ cryptocurrencies and seven different blockchains with just one app.
All people need to do to participate is simply download the Monarch Wallet, set-up their wallet, and then follow the instructions inside the app. The $50,000 in HEX tokens will be equally distributed automatically to everyone who participates in the free giveaway!
"After speaking many times with Richard Heart, the founder of Hex, there seems to be a lot of interest in the project in the cryptocurrency space," said Robert Beadles, President and Co-Founder of the Monarch Wallet. "We love our community and appreciate the opportunity we have in serving them. This giveaway allows us to give back to our community, our wallet users, and those who use our services." 
About Monarch:
The Monarch Wallet has over 427,500+ downloads—is available as both mobile and desktop apps—is decentralized, has a decentralized ERC-20 token exchange, a BTC/ETH fiat gateway, portfolio tracker, and universal KYC integration. The Monarch Wallet supports seven blockchains and more than 3,013+ cryptocurrencies. Qualified users can buy cryptocurrency with a bank or credit card and even earn up to 8.2% APR interest on select crypto holdings. All users can switch between hot and cold wallets while maintaining their private keys and seed. Monarch also provides businesses and merchants a way to accept cryptocurrency on a recurring basis through MonarchPay in-app.
For more information about Monarch, MonarchPay, or the Monarch Wallet, please visit https://monarchwallet.com/ or connect with them on Facebook or Telegram.