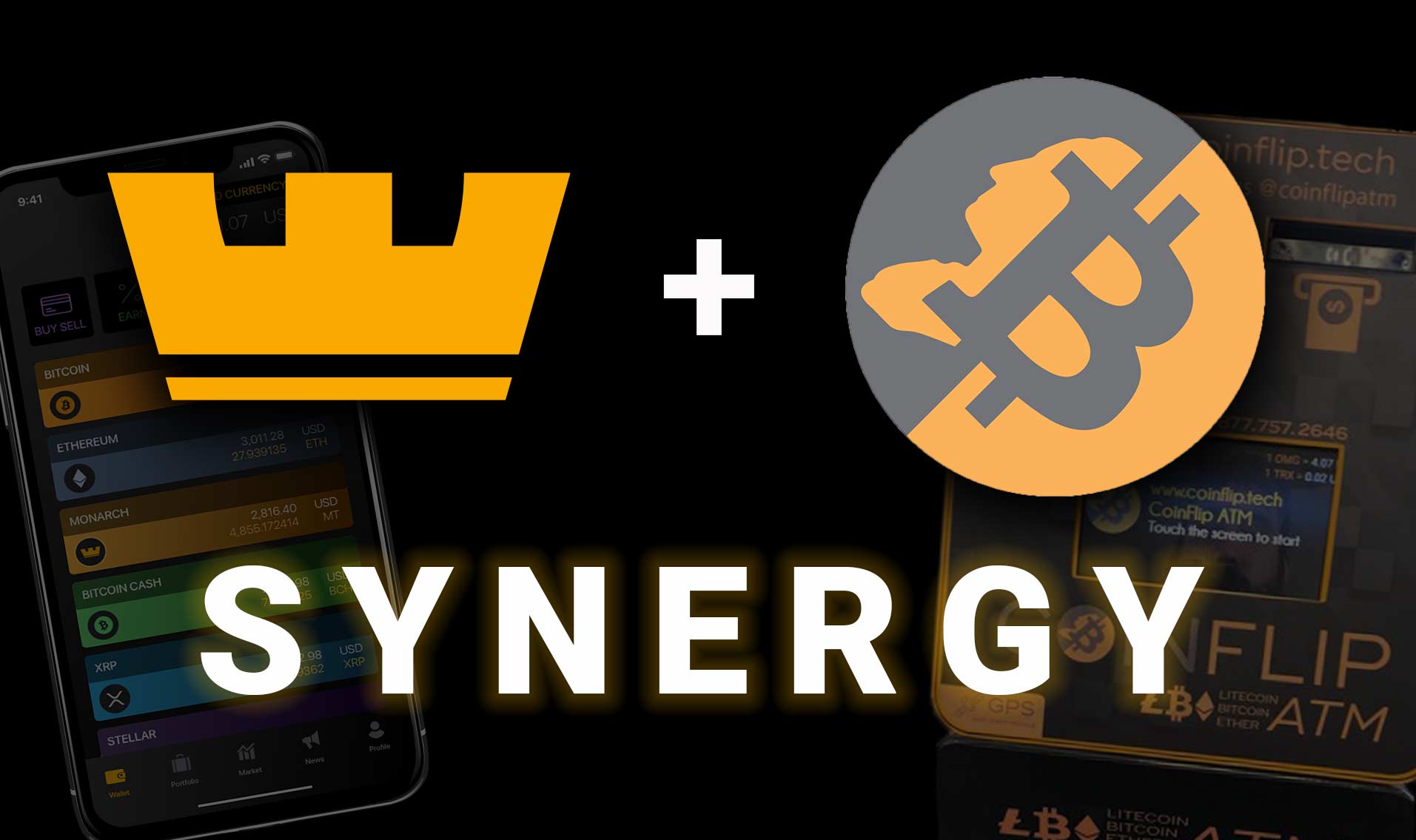 Monarch Wallet Partners with CoinFlip to Expand Crypto Adoption to New and Underserved Audiences
Partnership and Cross-Promotion Between Two Companies Will Broaden Access to Cryptocurrency for Populations Typically Ignored by Crypto Industry
Reno, Nev. and Chicago – May 5, 2020
–
Monarch Wallet
and
CoinFlip
today announced a partnership to expand cryptocurrency access to underserved audiences. Monarch is a decentralized universal cryptocurrency wallet bringing together the best blockchain services, and
CoinFlip
is the leading bitcoin ATM provider in the U.S. Together, they will work to grow crypto access for the underbanked and unbanked, those in cash-heavy economies, and people who prefer hands-on support for their transactions.
"Wallets and ATMs are naturally synergistic since every user needs to download a wallet before they purchase crypto from us," said Daniel Polotsky, CEO and Founder of CoinFlip. "We want users to engage with our machines, buy crypto, and then continue to engage with the crypto world through Monarch Wallet's many services aiming to educate users about cryptocurrency."
Monarch Wallet provides users with features offering new opportunities for people to leverage cryptocurrency. The non-custodial wallet includes token swaps through an ERC20 DEX, interest earnings, portfolio management, crypto news briefs, and more. Recently, Monarch made headlines by debuting a decentralized recurring payments application using smart contracts to bypass the need to centralize funds. With new features rolling out regularly, Monarch Wallet introduces CoinFlip's users to new capabilities in the world of decentralized technology.
"With the Monarch and CoinFlip partnership, almost anyone will be able to purchase or sell their bitcoin for cash quickly and seamlessly," said Sneh Bhatt, CEO of Monarch. "This partnership makes cryptocurrency much more accessible to the general public and now gives even those who aren't tech-savvy an easy way to get involved with crypto."
Monarch will integrate the CoinFlip ATM Locator into its app, while CoinFlip will promote Monarch Wallet at each of its ATMs to make the buying, selling, and storing of crypto easy and convenient. CoinFlip has 582  ATMs across the country and is on track to climb to 1,100 terminals placed by the end of 2020. Each ATM draws 200-300 customers per month with the ability to purchase many popular cryptocurrencies, including Bitcoin, Ethereum, Binance, and more. Through this partnership, CoinFlip and Monarch aim to continue bringing crypto to new frontiers to popularize decentralized currency.

About Monarch:
The Monarch Wallet has over 420,000 downloads—is available as both mobile and desktop apps—is decentralized, has a decentralized ERC-20 token exchange, a BTC/ETH fiat gateway, portfolio tracker, and universal KYC integration. The Monarch Wallet supports seven blockchains and more than 3,012 cryptocurrencies. Qualified users can buy cryptocurrency with a bank or credit card and even earn up to 8.2% APR interest on select crypto holdings. All users can switch between hot and cold wallets while maintaining their private keys and seed. Monarch also provides businesses and merchants a way to accept cryptocurrency on a recurring basis through MonarchPay in-app.
For more information about Monarch, MonarchPay, or the Monarch Wallet, please visit https://monarchwallet.com/ or connect with them on Facebook or Telegram.

About CoinFlip:
CoinFlip is the leading Bitcoin ATM operator in the U.S., with over 500 installations across 36 states and supporting the buying and selling of 10 different cryptocurrencies. Striving to provide the best cash-to-crypto experience available, CoinFlip offers 24/7 customer support, registration in minutes and the industry's most favorable exchange rates. Founded in 2014, CoinFlip is headquartered in Chicago.
For more information, please visit https://coinflip.tech/ and join the conversation on Facebook, Twitter, Instagram and LinkedIn.
Press Contact for CoinFlip:
Delia Mendoza
Venture PR
Delia@venturepr.co
(310) 500-9273