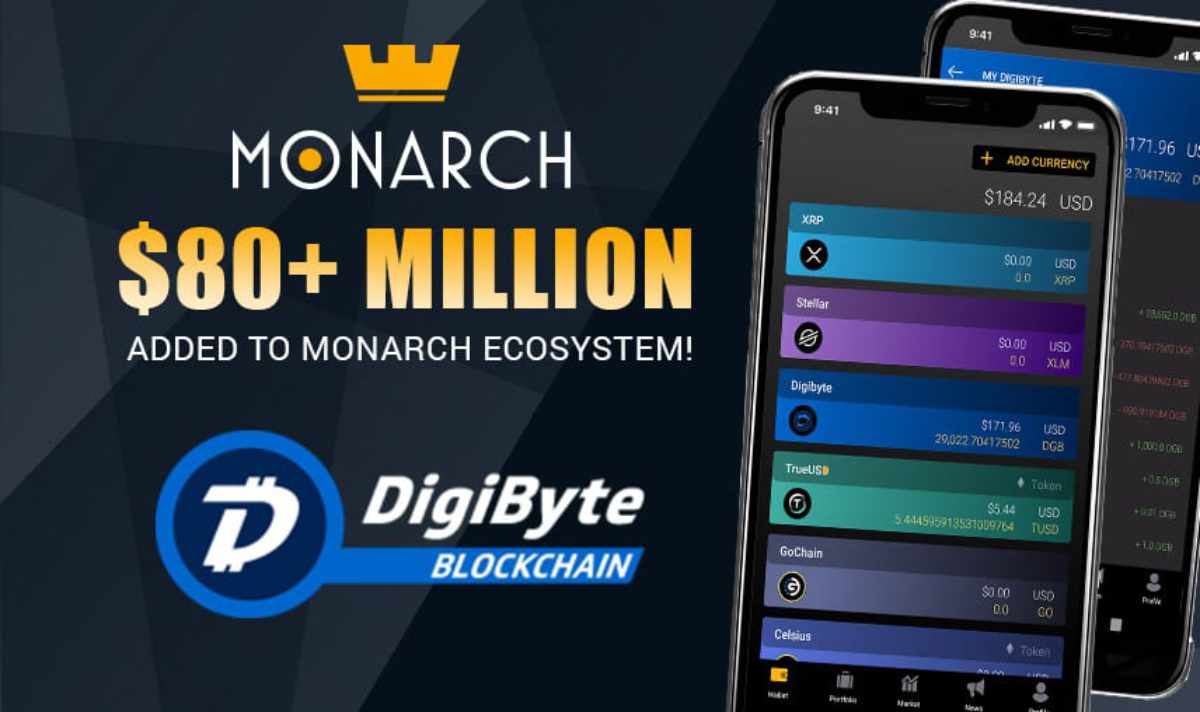 Monarch Wallet Update Adds Digibyte & MonarchPay Now Live on iOS & Android
Monarch Wallet adds support for yet another cryptocurrency. DigiByte is known for being fast, secure, and one of the most decentralized blockchains. MonarchPay is also live on the iOS and Android Monarch Wallet app now enabling decentralized recurring crypto payments in-app
RENO, NV / ACCESSWIRE / December 11, 2019 / The Monarch Wallet is a decentralized universal cryptocurrency wallet that brings together the best blockchain services into one easy to use app for iOS, Android, Windows Desktop, and Mac OS. It's currently helping over 334,000+ users buy, sell, store, send, receive, trade, and earn interest on their cryptocurrency. Monarch has consistently been adding more services, cryptocurrency tokens and coins supported to their universal crypto wallet since the launch of the company in April 2018. Currently, they support more than 3,000+ cryptocurrencies, 6 different blockchains. With the addition of DigiByte on the Android app, and soon the iOS app, the Monarch Wallet will now support 7 total blockchains in one wallet.
DigiByte (DGB) is a decentralized proof of work UTXO (unspent transaction output system) based blockchain that focuses on cybersecurity, digital assets, secure communication technologies, and payments. The DigiByte blockchain was created by Jared Tate in 2013 and released in January of 2014 with an open-source protocol with no pre-mine or ICO. One of the biggest things that make DigiByte stand out from crypto like Bitcoin is its speed. DigiByte has 1-2 second transaction notifications and 15-second DigiByte blocks versus 10 minute Bitcoin blocks. DigiByte also has 6x block confirmations in 1.5 minutes versus 1 hour with Bitcoin.
Another thing that DigiByte focuses on is security. Many cryptocurrencies are mined with 1 algorithm, like Bitcoin. This opens up the possibility of a 51% attack. A 51% attack is when a miner or group of miners might collude together and possibly rent hashing power to try and control over 50% of a network's mining power, computing power, or hash rate. This can be used to reverse transactions that have already taken place and create what is called a "double-spend." DigiByte uses 5 algorithms to combat this. With Digibyte, to execute a 51% attack, you would need 93% of the hashing power on 1 algorithm plus 40% simultaneously on each of the other 4 algorithms, which creates an exponentially increasing difficulty of proof of work attacks. According to the DigiByte website, one of their algorithms called Odocrypt, added July 21, 2019, also "changes itself every 10 days." to help alleviate ASIC mining dominance and also give miners a chance to re-optimize their settings without causing immediate issues to the overall hash rate for the algorithm.
As of December 8th, 2019 there are 12,578,337,784 DigiByte. The max supply of 21 Billion will be reached in 2035. Like many cryptocurrencies, the price has had major volatility. The starting price on February 6, 2014 was $0.001378, spiked to $0.126931 on January 7, 2018, and its current price is 0.006646 (December 8th, 2019). DigiByte has over 280,000+ full node downloads since April 2017, and 9846034 blocks as of 11/25/19.
DigiByte is built with 3 blockchain layers. The first layer is the applications/DigiAssets layer. Their website reports, "The top layer is like an App Store with clear real-world uses." These uses include Digital Assets, Decentralized Applications (DAPPS) that are built on top of the DigiByte blockchain, and Smart Contracts that leverage the security and rigidity of the DigiByte blockchain.
The second layer provides security and administration. These include Digital Assets which DigiByte describes as, "A digital byte of data, a representation of larger data or a unit that holds value and cannot be counterfeited, duplicated or hacked. DigiBytes can be used to secure value for many things." Due to it being a blockchain, it creates an "immutable digital ledger" where all transactions are recorded. This layer is also where the 5 separate mining algorithms are used for security.
The third and final layer is called the Core Protocol / Global Network Layer. The Core Communications Protocol is "a very low-level way nodes on the DigiByte global network communicate." There are thousands of people running DigiByte software across the planet which creates their global network. The decentralized nodes are by any server, computer or mobile phone that is connected to the DigiByte network.
"Monarch is pleased to add DigiByte to its decentralized wallet & suite of services, with no centrally controlling company, no ICO, no founders-reward or block bounties, DigiByte remains one of the few authentically decentralized projects," said Robert Beadles, President, and Co-founder of Monarch. "Recent investigation has even shown DigiByte had over 20x the unique miners when compared with BTC."
In addition to adding DigiByte to the Monarch Wallet app, Monarch has also just added MonarchPay to its iOS app, which now enables people and businesses to accept cryptocurrencies like Ethereum (ETH), and stable coins like True USD (TUSD), US Dollar Token (USDC), and DAI on a custom or recurring basis. Stable tokens are traditionally cryptocurrencies that are pegged to the exchange rate to another currency's value. Many stable coins are fixed to the US Dollar to limit the volatility when compared to many other cryptocurrencies. This makes it easier for businesses, Twitch broadcasters, content creators, influencers, website and web store owners to accept it, trusting that it will maintain its value and can easily be liquidated in a reasonable time frame. Most payment platforms have fees that can go up to 12%+, but MonarchPay uses a 1% fee across all possible crypto payment options and soon just a 0.5% if using their Monarch Utility Token.
About Monarch: 
The Monarch Wallet is available as both mobile and desktop apps, is decentralized, has a decentralized ERC-20 token exchange, a BTC/ETH fiat gateway, portfolio tracker, and universal KYC integration. The Monarch Wallet supports more than 3,004 cryptocurrencies, allows qualified users to buy cryptocurrency with a bank or credit card, earn up to 8.2% APR interest on select cryptocurrency holdings, while all users can switch between hot and cold wallets, all while maintaining their own private keys and seed. You can connect with their community and stay up to date by joining their official telegram live chat community here: https://t.me/MonarchToken