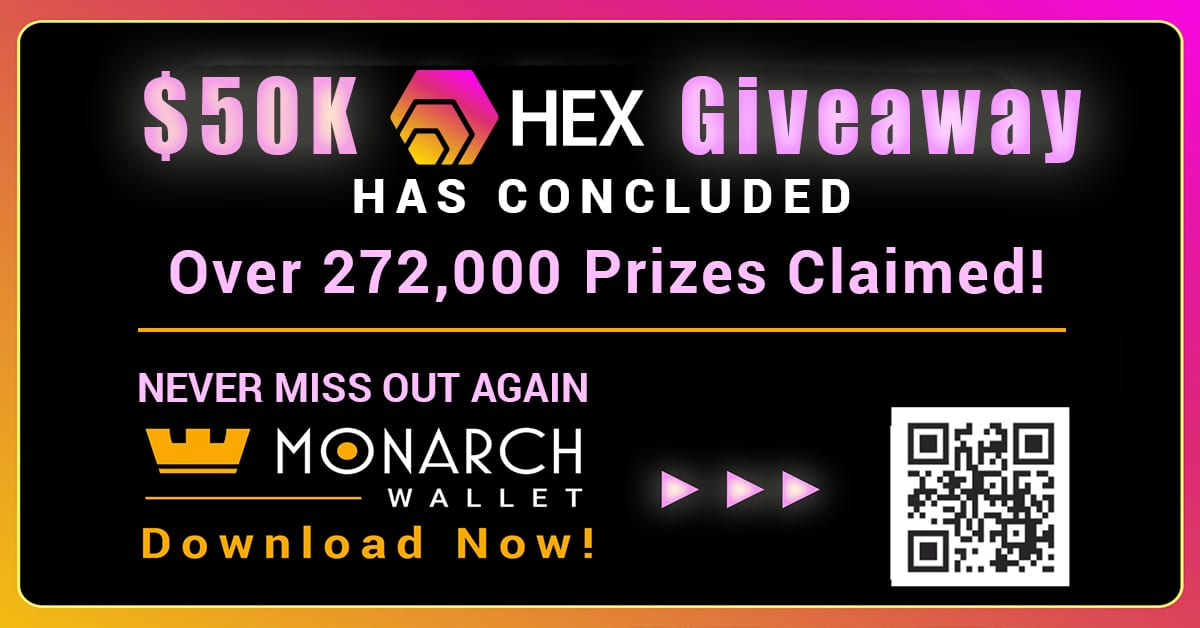 Monarch Wallet's $50,000 HEX Token Giveaway Has Concluded!
Monarch's $50,000 giveaway of HEX tokens has concluded and HEX aims to distribute the tokens to all participants by the end of the third week of September. Over a quarter-million people participated in just two weeks from the initial announcement of the giveaway.
Reno, Nev. – Aug 26, 2020 – Monarch Wallet, The decentralized universal cryptocurrency wallet, announced the $50,000 HEX token Giveaway has now concluded. HEX aims to distribute all $50,000 in HEX tokens by the end of the third week in September. This is due to the issues with the Ethereum network and the extremely high fees. Monarch is not distributing the HEX tokens but rather they will be distributed by HEX, founded by Richard Heart. 
Over 272,000+ Wallets claimed HEX tokens during the giveaway. All $50,000 in HEX tokens will be equally distributed between everyone who participated from HEX. Ethereum GAS fees for this giveaway would have cost between 1 to 2 million USD in equivalent ETH. Due to the high fees of the Ethereum blockchain, HEX will be using ZKSYNC.IO services—a secondary off-chain solution that can distribute all $50,000 HEX to over a quarter-million participants at just around $0.001 per transfer—a very small fraction of the standard cost.
"We had more excitement and people claim than we anticipated, with almost 300,000 in just two weeks," said Robert Beadles, President, and Co-Founder of the Monarch Wallet. "This giveaway is just one way we're giving back to our community and thanks to zksynch.io, it won't cost HEX millions in GAS fees to send the tokens to everyone who participated."
The Monarch Wallet brings together the best blockchain services into one easy to use mobile app for iOS and Android. With over 722,240+ wallets generated, it's clear more and more people trust Monarch Wallet for their cryptocurrency needs. Monarch Wallet users can buy, sell, send, receive, trade, store, and earn interest with cryptocurrency with just one app!
The $50,000 HEX giveaway was one of many different types of giveaways Monarch Blockchain Corporation has held. Monarch has shown consistent user growth while continually improving and adding new product offerings to the Monarch Wallet & Monarch Ecosystem.
Monarch will soon be releasing a new mobile game where users will be able to earn credits that could be swapped for cryptocurrency. The app is called Bull Run, and you can pre-register to be notified when they launch.
Another unique and exciting service Monarch is set to release is Monarch Health, a health care plan which aids families with fair, accessible, and affordable care. You can also pre-register on the Monarch Health website to be notified when Monarch Health launches!
About Monarch:
The Monarch Wallet has over 770,240+ wallets generated—is available as both mobile and desktop apps—is decentralized, has a decentralized ERC-20 token exchange, a BTC/ETH fiat gateway, portfolio tracker, and universal KYC integration. The Monarch Wallet supports seven blockchains and more than 3,015+ cryptocurrencies. Qualified users can buy cryptocurrency with a bank or credit card and even earn up to 8.34% APR interest on select crypto holdings. All users can switch between hot and cold wallets while maintaining their private keys and seed. Monarch also provides businesses and merchants a way to accept cryptocurrency on a recurring basis through MonarchPay in-app.
For more information about Monarch, MonarchPay, or the Monarch Wallet, please visit https://monarchwallet.com/ or connect with them on Facebook or Telegram.