Passive Income Earning & 723+ Million in Market Value Brought To Monarch Wallet
Monarch Wallet iOS Update Adds support for NEO & GAS, bringing Passive Income earning to users on iOS devices. The Monarch Wallet Android update also brings biometric fingerprint support and a new UX/UI for an improved experience.
RENO, Nev — AUGUST 9, 2019  — Monarch, one of the most feature-packed decentralized wallets and suite of crypto services, today announced it has updated it's Monarch Wallet on iOS and Android. The iOS update brings support for one of the top 18 Tokens according to CoinMarketCap.com, bringing 723+ Million in Market value to the Monarch Ecosystem. Monarch's Android update brings Biometric fingerprint support, a feature which many have asked for to enhance the level of security provided with the app.
"Users will now be able to not only store, send and receive NEO inside their iOS wallets, but they can also earn GAS, bringing passive income earning potential to the Monarch Wallet," said Robert Beadles, President of Monarch. "We're excited to welcome the NEO community to the Monarch ecosystem, and look forward to adding support for more cryptocurrencies as we continue developing and expanding our decentralized wallet and suite of services."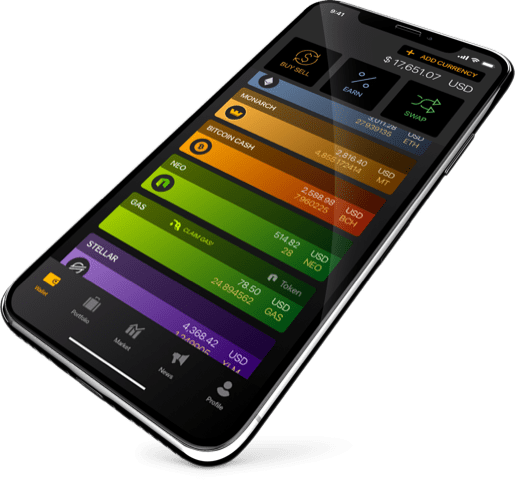 Monarch brings together the best blockchain services under one app with functionality across iOS, Android, Windows Desktop, and Mac OS, providing a one-stop-shop for more than 300,000 users. Through this integration, Monarch Wallet iOS users now have passive income earning potential through simply storing their NEO in the Decentralized Monarch Wallet.
Monarch recently concluded its Token Generation Event, raising more than $2 million to help fund further development of the Monarch Wallet, MonarchPay, and a suite of other blockchain services. Monarch's extensive network of partners includes a recent agreement with Ambisafe to release an Alternative Trading System (ATS) that will allow for investment in tokenized entities (Pending FINRA & SEC Approval). Headlining the offerings in the Monarch/Ambisafe ATS will be a pre-IPO token for SpaceX.

"Monarch is about to drop technology the world has yet to see in the marketplace. We're really excited and look forward to unveiling everything through a major announcement in the next week!" Robert Beadles, President of Monarch.
Monarch is advised by Roger Ver, Bitcoin Foundation Founder; Eric Ly, Co-Founder of LinkedIn; David Zimbeck, lead developer at BitBay and creator of the first smart contracts; Damon Nam, Founder of CoinVest, and many of the most influential names in the blockchain industry.  Monarch has acquired a broker-dealer license and is awaiting SEC and FINRA approval.
ABOUT MONARCH
Monarch offers mobile and desktop apps, a decentralized wallet, decentralized ERC20 exchange, BTC/ETH fiat gateway, a portfolio tracker, and universal KYC integration. The Monarch Wallet supports more than 3,000 cryptocurrencies and allows qualified users to buy cryptocurrency with a bank or credit card, earn up to 8.1% APR interest on select cryptocurrency holdings, and all users can switch between hot and cold wallets, all while maintaining their own private keys and seed. You can connect with their community and stay up to date by joining their official telegram live chat community here: https://t.me/MonarchToken